"Many years ago," she said, "I was the first woman to be elected to the Indian Parliament." (P 121)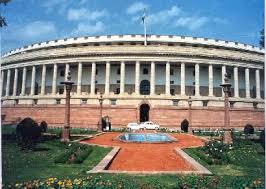 This magnificent building in New Delhi, houses the Indian Parliament which consists of the Representatives of the people ( Lok Sabha or Lower House) and the Council of States ( Upper house). Our Parliamentary system draws heavily from the Westminster model but our representatives' behaviour is often far from Parliamentary.
We actually have a TV channel that broadcasts live the proceedings of Parliament. Sometimes, when I am bored with the mundane stuff I see on television, I watch the Parliamentary proceedings - I am amazed at the stuff our MP's come out with. During one session last year, there was actually a group of MPs who brought along a sack and took out huge sums of money claiming that these sums were used to buy votes!!!
In yet another session, the representatives actually got violent and threw around tables and chairs.
Is this freedom of speech or sheer boorishness?